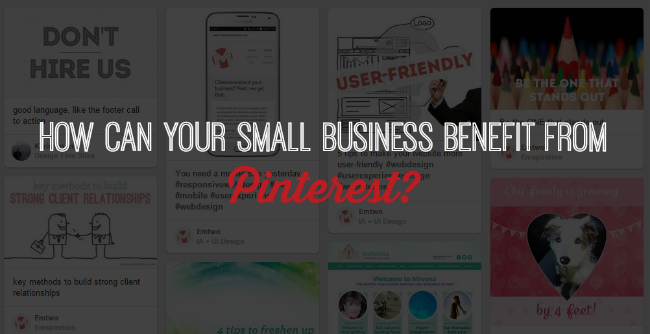 If you're thinking that your business has enough of a social media presence with its Facebook page, Twitter account, or whatnot, then why on earth should you consider opening a business Pinterest account? You're obviously already reaching everyone with your established media presence – or are you? With well over 40 million users, 80% of which are women in the 19-35 age range, Pinterest is quickly gaining a strong foot-hold in the social media game, so you might want to consider some reasons why a Pinterest account could enhance your business.
Get Your Company Noticed
Having a Pinterest account is a good way to get your company noticed – especially if your target audience is women. And what is one activity that women are known for? Shopping, of course!
If your business is a product-based business (think retail), then you can increase your exposure by including price tags in your products' images, which tends to generate more likes. Since 75% of Pinterest activity is mobile , your followers can find you online while shopping. Win, win.
Connect with your Audience
You can also use your Pinterest account to build rapport with your audience. By responding to all commenters or answering any questions that are asked, your potential customers will trust you to be on their side. Wouldn't you rather shop with a company who acknowledges your concerns and appreciates your interest?
One company that is famous for always engaging with their audience is Target, who never lets a comment get away without a response, thus building customer loyalty. A little recognition can go a long way.
Communicate What Matters
Having a Pinterest board is a good way of communicating what matters to your company. You should pin whatever your target audience might like to see. Think content, not sales. Think about what might interest your audience, and pin it to your board. If you concentrate too much on advertising, then you are bound to lose interest rather quickly. But if you open your board to include common interests with your audience – even if they aren't directly related to what you're selling – that can go a long way to showing a more "human" side to your company. You want people to pin images from your board, which will get their friends seeing your company, repining these pins, and next thing you know, you have another pinner and potential customer. Voila!
What Is Your Competition Doing?
You can also use your Pinterest board to see what your competition is doing. What are they pinning? What are other people pinning from their boards? What else are their pinners pinning? What is trending? (See above about pinning what matters to your company.)
Track Your Pins
There are also tools available to track pins (and views of pins) from your site. (http://pinterest.com/source/yourwebsite.com) You can use these tools to see what is catching your audience's collective eye. What works, what doesn't work, what could use a little more work? Maybe you need to stock up on something that's getting a lot of attention before the holiday rush. And don't forget about the tools that will add a "Pin It" button to your website, to make it easier for your audience to pin to their Pinterest boards.
Despite all of the above advantages of having a business Pinterest account, they won't do you or your company any good if you don't use Pinterest! So, what are you waiting for? I, for one, look forward to pinning from your Pinterest board!