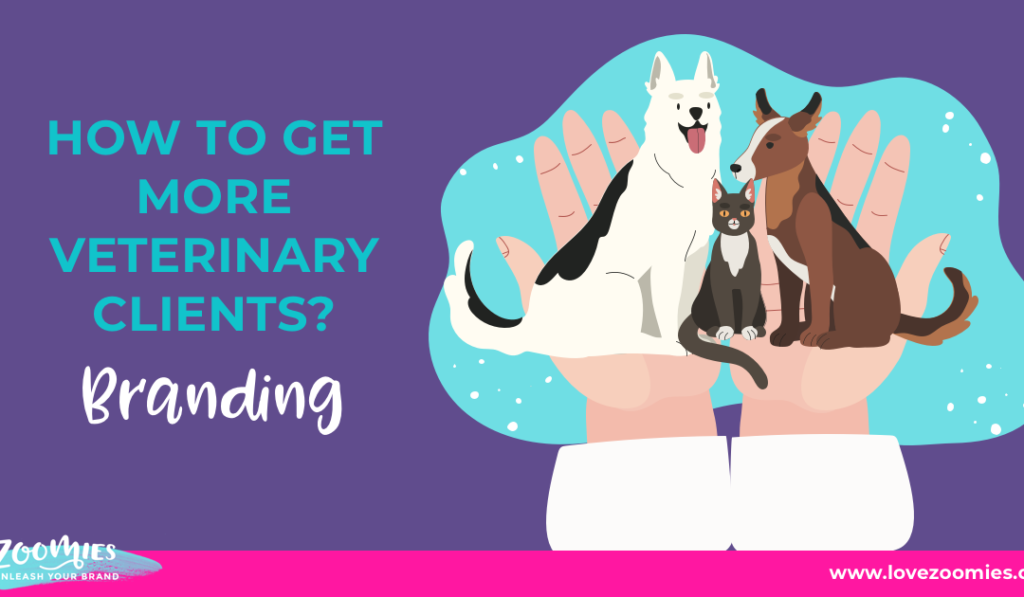 As the owner of a veterinary clinic, I'm sure you already know how to make your patients feel better and give their owners all the information and advice they need to give their pet a long, healthy life. But do you know how to get more veterinary clients?
Are your customers coming back time after time? And if they are, is it based on your service or just on the prices you offer?
To stick around in this industry, it's important that you build a loyalty-inspiring, unique brand for yourself to make your customers, and their pets, feel welcome and accepted in your veterinary clinic.
If you're struggling or wondering how to get more veterinary clients, it's time to look at your business' core – your brand. More than just a logo, it's everything from answering the phone to giving out good boy treats.
When created and implemented the right way, your veterinary brand will do some of the hard work (attracting and keeping customers) for you.
What is a brand?
Before we get down into the nitty-gritty details, what exactly is a brand and branding?
Your brand is the perception people have of your company.
Branding is a way of establishing the company image you want in the eyes of your customers, potential clients, and competitors.
Your brand is more than just a pretty logo and color palette! Think of it like your company's personality.
How can you develop the brand for your veterinary practice?
Creating a brand that means something takes a lot of industry insight, design know-how and critical thinking about your company.
To start with, you need to consider what your veterinary clinic does and why. This might sound obvious but seriously look into every service you provide. Remember why you started your business in the first place. Go back to basics – because that message is the one that you want to promote to potential new customers. This is your unique story that sets you apart from every other veterinarian.
Look beyond all of your equipment and a long list of services and instead focus on what the bigger picture is. Ask yourself what makes you unique and what sets you apart from your competitors. To get those paws and claws through the door and the people who love them, you need to be able to promote why you're better than the guy next door. The worst thing to compete on is price. When you compete on price, it's a race to the bottom. You need to chisel away at your company's offerings and figure out what makes you amazing and then do that!
Things that might set you apart as a veterinarian
Drop off and pick up services
Punctuality (minimal wait times)
On-call veterinarian services
Weekend hours
Access to an emergency van
Exotic animal care
Access to the latest technology & treatments
Knowledgeable receptionists
Pet lost and found services
Pet adoption center
Whole health animal care
Once you've figured out what makes you different from your competitors, it's time to incorporate that ethos into everything you do. This is what's called branding.
How to promote your veterinary brand
There are so many ways to promote your brand, but this list is a good place to start:
Have modern brand assets (logo, website, merchandise)
Regularly update your website with original blog posts and pet-focused news
Create profiles and post on social media
Appear at/sponsor local events and expos
Traditional advertising
Online advertising
Charity donations
Refer-a-friend discounts
But how can having a veterinary brand get you new clients?
Your brand establishes the identity of your veterinary practice and sets you apart from your competitors. It's what makes you unique and what makes you stand out. If you don't have a well-defined brand it's nearly impossible to be able to generate any continuous growth as a clinic.
You will simply be another veterinary clinic competing on price and nothing else. A recognizable brand will gain loyal followers and customers. And we all know loyal followers and repeat customers means an increase in revenue and profit.
Build your veterinary brand and the customers will keep coming back
Pet parents are bombarded with choice when it comes to veterinary practices. Their options can range from low-cost clinics to full-service veterinary hospitals and you need to be able to stand out amongst the crowd. Consumers want something that they believe is priced fairly and will deliver what they need for their pets.
You want customers to be able to identify with your veterinary hospital brand. You want them to keep coming back to you because they know who you are and that you can provide them with high-quality service as well as care for their pets.
A good vet clinic brand evokes familiarity and dependability. Through a solid brand strategy, you become a name pet owners can trust and once your brand has been established word of mouth will soon travel.
Your brand is not what you sell and it isn't your latest marketing campaign either. Your brand is your unique personality and the personality of your hospital and your employees.
Many veterinary clinics list all of their services with their marketing materials. This is a mistake! Pet owners are already aware that vets treat sick animals and pets. What they want to know about your hospital is how your services are going to make their lives, and the lives of their pets, better.
So, how does your veterinary practice's brand measure up? Sign up for a brand rescue strategy today to discover the hidden problems that could be holding your office back.
About the author