custom and robust e-commerce store using ExpressionEngine & CartThrob

Services Included:
Branding / Online Strategy / UX Design / Mobile First Design / ExpressionEngine Development / Insurance & Security / Priority Support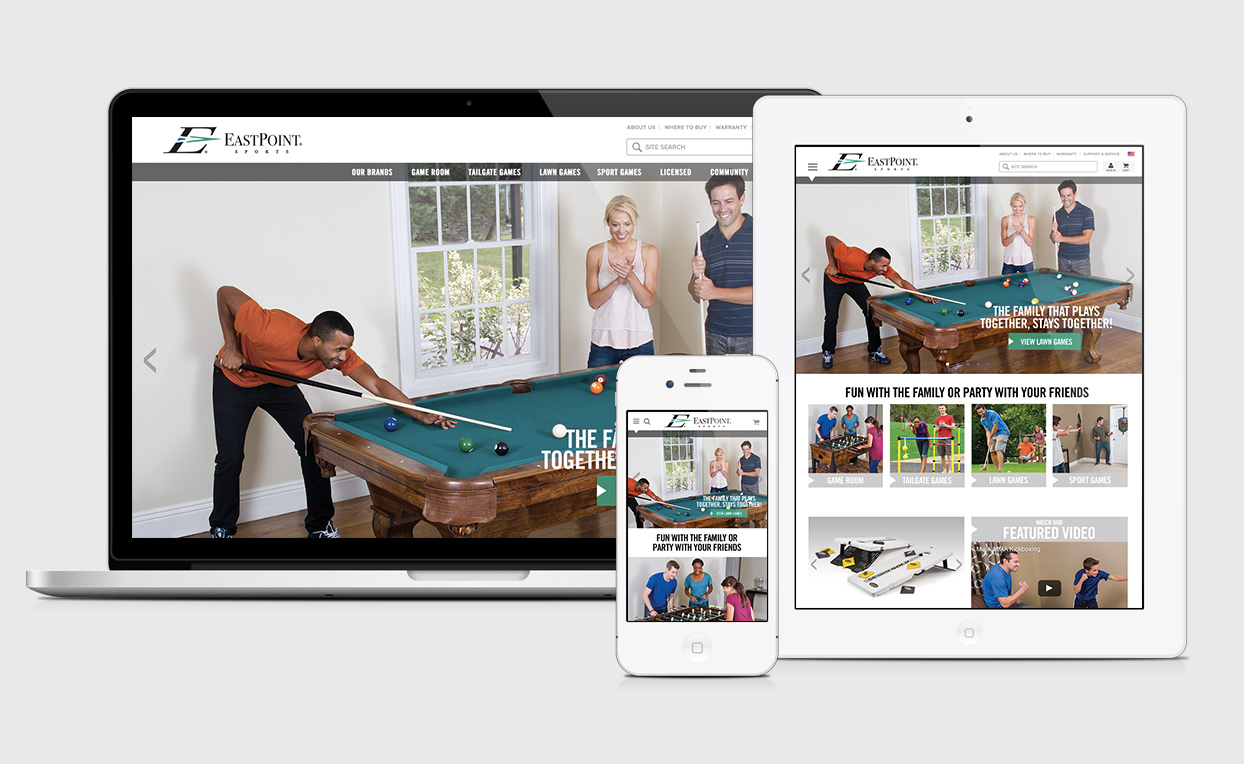 Before
The EastPoint Sports website was outdated and built to manage only a few products. Users were getting lost finding support and there was no connection between products and replacement parts, which was a huge administrative issues as EastPoint Sports' product line has grown over the years. It was clear they had outgrown their current site's infrastructure and needed a custom setup to solve both internal and external issues.
Our Solution
We remapped the entire site and incorporated everything into one single system using ExpressionEngine. The client can now manage products, product parts, and customers through one system. The new website is more modern and easy to navigate for users, as well as showcases their full and growing product line and brands. In addition, we created a completely custom administrative interface where admins can login and approve orders, manager customer data, view support tickets, run custom reports, and it's all connected to their internal inventory and warehouse management application.
A Full Solution
EPS not only have a better front-end site for their customers, but the backend administration area makes managing orders and client support tickets a breeze. They can attach images to tickets and email customers support items like replacement part links and instruction PDF's with just a click of a button.
Easier to find, easier to navigate
In the first year, we saw a reduction in the bounce rate by 14% and search result pages had increased by 30%. Session durations increased as well. Their site has improved search engine optimization (SEO) with standards-based HTML and structured data. And EPS' marketing staff has full control over search engine meta-data.
Less management headache
With the updated CMS infrastructure, EPS is able to add and edit all of their content. They are able to update to update all product info, including complex layouts that match existing layouts they use on Amazon.com.
Mobile First
A responsive mobile first approach that helps customers navigate the site seamlessly, which reduced bounce rate and longer sessions.
Modern Branding
Modern design elevates the brand experience and showcases EPS' growing line of products and brands.
Security & Insurance
With our
dedicated support & insurance plan
, we have eyes on the site at all times. We also make sure their site is running the latest, stable release of their CMS (ExpressionEngine) and we run daily offsite backups and security monitoring to keep their site performing and secure from any threats.
Need a site that gets results?