Responsive ExpressionEngine driven website offering
firearms and tactical

training in Houston, Texas

Before
The 360 Tactical Training website was outdated and difficult to navigate. The bounce rate was increasing and sales were stagnant. The website was very constrictive, making updates difficult and painful. There was no mobile site which was hurting search and the overall user experience. Finding content and courses was cumbersome.
Our Solution
We provided a modern and better brand experience for customers. We streamlined the navigation and featured popular courses on the home page. Each course page was designed to give a quick overview, without bogging the customer down with too much information. In addition, the responsive design helped the majority of visitors find the information they needed quickly and easily. This resulted in an increase in organic search and sales.
The site is performing so well that we spend too much time entering orders into our in-house point-of-sale application and creating rosters. It's not a bad problem to have. Our courses are selling out regularly and we are planning to add new courses to keep up with demand.
Services Included
Branding / Online Strategy / UX Design / Mobile First Design / SEO / Speed Optimization / ExpressionEngine Development / Insurance & Security / Priority Support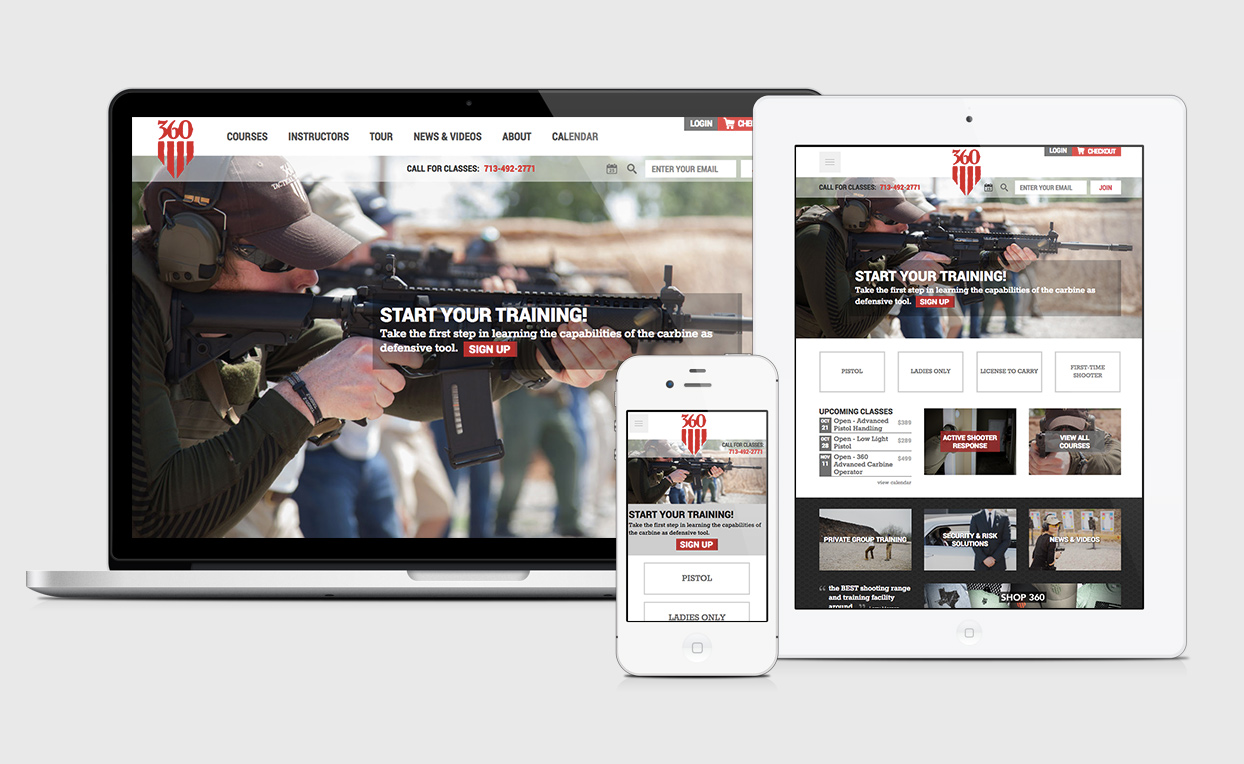 Easier to find, easier to navigate
In the first 6 months, 360 saw a 17% increase in overall traffic & 44% increase in page views. There was a 30% increase in organic search & 62% increase in page views. Session durations increased more than 17% and the bounce rate dropped by 20%. Their site has improved search engine optimization (SEO) with standards-based HTML and structured data. And 360's marketing staff has full control over search engine meta-data.
Site Speed
60% increase in overall site speed and a 20% reduction in database queriess. Leaner and meaner code makes the google happy.
Mobile First
A responsive mobile first approach that helps customers navigate the site seamlessly, which reduced the bounce rate.
Modern Branding
Modern design elevates the brand experience and showcases 360's expert knowledge.
Security & Insurance
With our dedicated support & insurance plan, we have eyes on the site at all times. We also make sure their site is running the latest, stable release of their CMS (ExpressionEngine) and we run daily offsite backups and security monitoring to keep their site performing and secure from any threats.
Less management headache
With the updated CMS infrastructure, 360 is able to add and edit all of their content. They are able to update the navigation, featured sections, promotions, and courses with a click of a few buttons.
Need a site that gets results?