With so many websites and companies selling similar products or services, one company's weakness can be another one's gain. This is especially true for websites, which are often the first line of introduction a potential customer or client has to a business. Websites that are user-friendly, along with fresh and updated content are likely to draw in a higher number of customers, in comparison to a website that is not user friendly, or a site that appears to be outdated. Creating a user-friendly layout is quite simple, and can be just what your business needs for future success.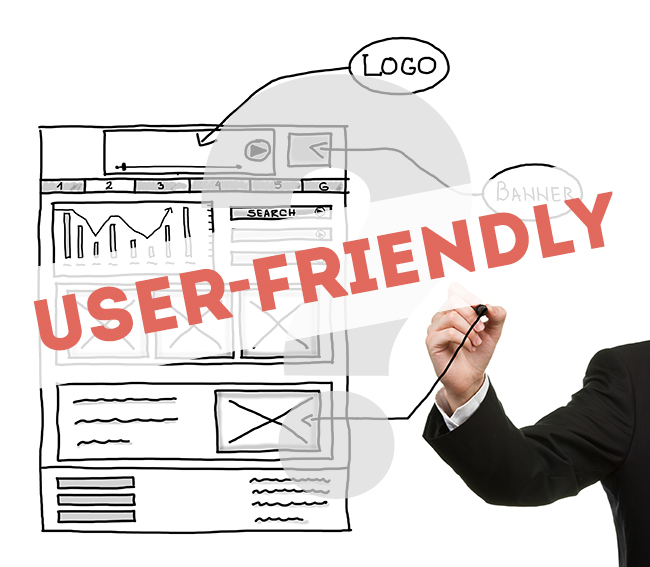 So why is a user-friendly website so important?
A user-friendly website is an essential part of any successful business. For a large number of visitors, a company's website is what can make or break its image. A website can be thought of as the first step in making a statement to the online world. You only get a few seconds to make that impression, so make it the best.
Just as you would not want to make a bad first impression in-person, a website that is not user friendly can be just as harmful. There are a number of steps you can take to determine whether your website is user-friendly, and how to make the necessary corrections if you think that your website is lagging behind.
Use a clean layout – a clean layout is an essential part of any website. If you are not sure whether your website has a clean layout, take a close look at the content, as well as the links and navigation. A website that is jumbled with links or text can be confusing and off-putting to potential customers. With too many words or links cluttering the page, the reader may get discouraged and ultimately leave the website for a more user-friendly site. Make sure that your navigation is clean and concise, and that visitors can easily find the information they are likely looking for.

Make content easily accessible – keep in mind that many people do not have time to sit down and read all of the information on your website. For this reason, it is crucial to keep paragraphs, and text in general, to a minimum. Instead of writing in paragraphs, try adding in a few sentences at a time. You can make the page more exciting and break up any wordy areas by including pictures or links.

Ensure that your site is mobile-friendly – many consumers have access to the internet – and your website – through a mobile device. Keep this in mind when you are determining how you can make your website more user-friendly. Consumers on the go will appreciate having access to your website at all times, which can help to enhance your business.

Make the website visually appealing – the more attractive your website, the more likely it is to lure in customers. Although dedicated customers may put up with an unattractive website, potential customers will likely go elsewhere to do business. You can avoid this problem by incorporating a simple, yet stylish layout, with a soothing color scheme. Avoid crowding the site with graphics or using distracting images and animations.

Clear and distinct calls-to-action. You do not want people hunting to find your contact information or details about the services you provide. Make your calls-to-action prominent and distinct from everything else on your page. You want them to be the most important aspect of the page so users don't have to guess about what to do next. When a user has to guess, they'll likely end up leaving your site.
These are some very basic prinicples and a great first step in creating a site that will deliver results.  If your website is not user-friendly, you may be losing clients and forcing potential customers to go elsewhere, which is the exact opposite of what you want to do. Of course, if you need help, we're here for you.